Consulting in Technical Vocational Education and Training
We help to master challenges in vocational training
Knowledge has never progressed, nor become obsolete, as quickly as today. This applies to industrialized nations as well as developing ones, where the adaptation of training content represents a still greater challenge because the learning content imparted is often already obsolete. Closing the gap between available and required practical skills in the workplace has never been more difficult for business and the public sector, but today modern ways of learning offer many advantages for conveying content vividly and closing the gap to proven knowledge.
Our experience shows that there are the following challenges in vocational education and professional training:
Keeping training content up to date so that it meets current requirements of the industry.
Ensuring that equipment in vocational training centers and universities is suitable for delivering newer, more modern training content.
Strengthening the practical training skills of teachers in order to narrow the gap with industry requirements.
All of these are tasks that can be mastered in collaboration with TÜV Rheinland as a global training provider. Governments, industry and schools can rely on us to provide cutting-edge industry-specific expertise by designing training programs and operating training centers. We also support the private sector and governments with practical expertise and implementation skills. Moreover, we offer many years of local business experience and a global presence so that we are there to support wherever you are in the world.
What you can expect in the area of TVET Consulting
Design and implementation of training programs.
Development or revision of available curricula.
Review of available training material and development of new training material.
Support in the planning and procurement of training hardware, including industrial components, and the upskilling of trainers.
Planning and setup of training centers – from training hardware to the definition of new qualification programs.
With our globally recognized German training experience and competence we support you in modernizing your training facility, making it leading edge and attractive both to industry and learners.
What are you waiting for?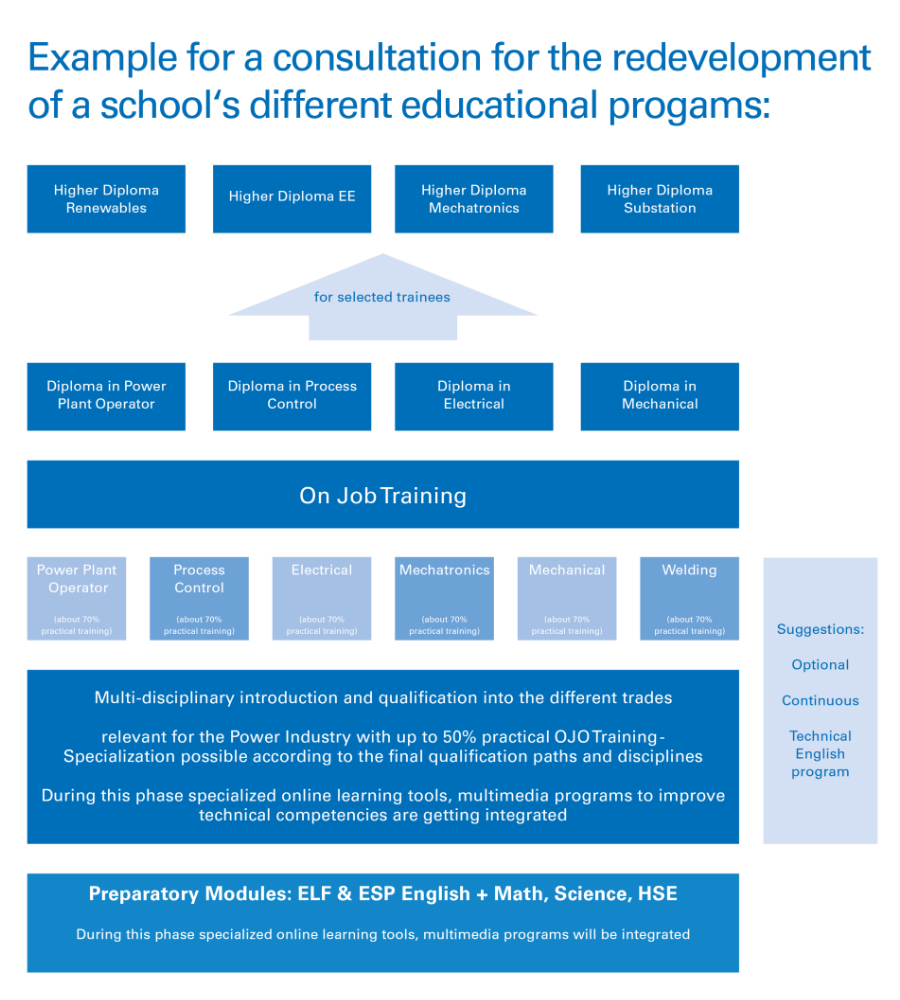 Planning and verification of training material and hardware
The success of a technical curriculum depends to a large degree on the availability of suitable training materials and workshops. Training hardware and a suitable training environment are essential for developing practical and technical skills, especially where there is a lack of training within the company.
When training equipment is obsolete or only partially available learners can only be trained with theoretical exercises, leaving out the most important element of their training for industry. Hardware requirements are based on learning objectives, training methods and content as well as the organization of the training process.
We advise training facilities, schools and companies on how to modernize their training infrastructure. By defining equipment requirements we take into account local labor market needs – now and in the future. We also offer a wide range of practical applications in combination with e-learning and virtual learning spaces to engage learners in the most appropriate way.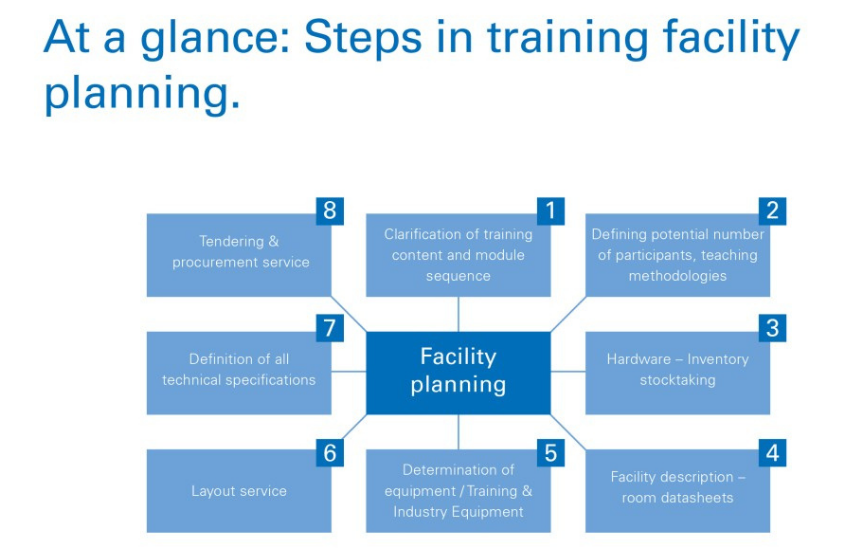 Design of TVET training programs
Emerging markets have a growing need for skilled personnel. Technological and economic change place demands on the proper operation of equipment, machines, and means of transportation, their proper maintenance and inspection as well as the control and analysis of processes and infrastructures. At the same time, the safety of people and technology needs to be preserved in order to sustain confidence in innovation. This means that very specific technical knowledge and the ability to apply that knowledge are equally important.
TÜV Rheinland is globally a market leader as a testing and certification body and vocational training provider. This unique mix means that we can develop training programs which are highly aligned with today's industrial requirements and well recognized certification programs across all sectors.
Through close interaction with industry, we stand for the practical relevance of our curricula, a contemporary content that is oriented towards the German framework curricula and corresponds to the current technological progress.
Have a look at all our TVET services