Digital learning references
Why is TÜV Rheinland Academy your precisely right partner for digital learning solutions?
As a leading competence companion for technical subjects, TÜV Rheinland combines its didactic and technical expertise to provide corporations as well as private individuals with effective further training for the working world of tomorrow.
Digital learning management systems for customized competence development guarantee modern and uncomplicated user experience, rapid access to management functions, and a clear record of all learning progress for each user – with easy scalability to international standards.
In addition, digital learning solutions reflect current user behavior, in that they are flexible, intuitive to grasp, and geographically independent. Another great strength of digital learning solutions lies in interactivity, i.e. the scope for social interchange and – depending on format – in immersion, quite literally, the immersion of the user in virtual reality. All of these named aspects verifiably boost the effectiveness of learning.
Our digital learning reference cases
Companies benefit from our digital learning offerings, the format and content of which can be tailored to suit the precise needs of the target audience, and which facilitate further training in an entirely new dimension. Here are a few examples of how our digital learning solutions can be used by our customers worldwide to successfully deliver their further training.
Employees at RWE Power AG can now practice operating a bucket wheel excavator anywhere and at any time – without any heavy equipment. This is all possible thanks to the digital cockpit, which was developed by TÜV Rheinland Academy, within the VR headset.
BPM&O imparts knowledge on process management and organizational development. In Video-based online seminars, created together with TÜV Rheinland, they presented its service to a potential clientele in a professional way.
To facilitate the understanding of the German labor market TÜV Rheinland Academy produced a virtual journey of discovery into the everyday working life and vocational training. Target group of the Goethe Institute are newly immigrated third-country nationals.
In a game-based learning world, programmed specifically by TÜV Rheinland Academy for Beiersdorf AG, employees can acquire the technical knowledge they need in a self-determining manner. In consultancy meetings with virtual customers, you can further build upon and consolidate your knowledge.
For raising awareness of the topics information security and data protection CLAAS relied on e-learning solutions and the learning management system from TÜV Rheinland Academy to impart the necessary knowledge.
Don't stop dreaming - take your career to the next level!
Our digital learning solutions are made from people for people. Have a look at the story of Jane P. to learn how TÜV Rheinland helped her fullfilling her dream.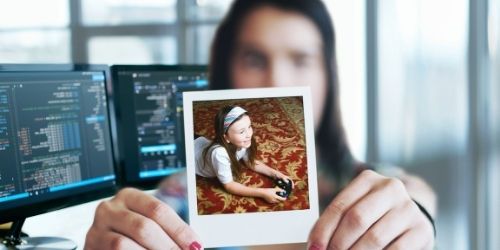 "It all began with my first gameboy, then later I discovered gaming consoles and also the PC. So I guess I've always been digitally minded. This also became apparent to me in terms of my learning preferences. I want to learn whenever and wherever it suits me – ideally online. The live online training courses on the subject of data protection delivered by TÜV Rheinland Academy were absolutely right for me.
When the requirement then arose in my department to train the team in matters of cyber security, we were able to tackle that digitally. TÜV Rheinland Academy advised us on the selection of an appropriate form of learning, then delivered the content that met our requirements. Even colleagues at other locations were well impressed by the outcome and by the success of the learning experience."
Jane P., Compliance Officer